The FDA's final guidance document on mitigating bacterial contamination in platelet components, released on September 30, 2019, formally recognises the risk of transfusion-transmitted bacterial infections and the need for additional safety measures to protect patients.
Download the FDA guidance document
The FDA guidance document describes several strategies which can be used to mitigate the sepsis risk associated with platelet transfusions, including Pathogen Reduction (PR); Large Volume Delayed Sampling (LVDS); and various primary with secondary testing strategies, almost all of which require aerobic and anaerobic bottles1.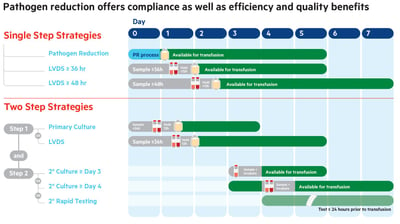 What does the new standard mean for blood centres?
For blood centres currently using pathogen reduction, no changes are required to meet the new FDA guideline. With PR, the procedures and products are already in compliance with the new standard. For blood centres using bacterial detection, compliance depends on the processes. The FDA guidance includes several bacterial detection options which, if implemented according to the guidance, meet the minimum requirement.
For blood centres where processes do not yet align with the FDA guidance, these are some aspects to consider in determining how to revise procedures and implement the required steps to meet the standard:
4-fold
The addition of anaerobic cultures may increase the rate of false positives as much as 4-fold, which may lead to increased wastage, increased reagent consumption, and potentially more product re-calls
-16 ml
The 16 ml sampling of the final product may lead to a reduced platelet count in the product, which may need to be compensated by modifying donation specifications or component processing specifications
5-day
The sampling after 36 hours with a 12-hour hold to obtain a 5-day shelf life for the platelets leads to much older platelets being issued, contrary to the main objective of issuing fresh platelets as much as possible
+1 step
Secondary testing either via culture or secondary rapid testing can be operationally challenging and entail new processes, SOPs, etc.
INTERCEPT pathogen reduction for platelets
With pathogen reduction, these potential obstacles are eliminated. In addition, pathogen reduction offers efficiency and quality improvements to blood centres, including:
Proven safety. Approximately 2.3 million PCs
have been manufactured worldwide (Cerus Corporation; unpublished data) without a reported septic fatality.2
Available blood products. Depending on the
availability of NAT results, pathogen-inactivated
platelets may be available as soon as Day 1.
More efficient blood products. By eliminating multistep tests and complex inventory management, blood centres can streamline operations and costs.
FDA approved
Cerus' INTERCEPTTM Blood System is currently the only FDA-approved pathogen-reduction technology to treat platelet components, and has been deployed at blood centres and major academic hospitals around the world,
including the American Red Cross. In fact, in an open letter3 to the healthcare community, published October 2019, Chris Hrouda, President of Biomedical Services at the American Red Cross, said: "Pathogen reduction is the preferred approach of the American Red Cross for enhancing the safety and availability of platelets for transfusion."
The global leader in blood safety
When it comes to safeguarding the world's blood supply, Cerus is leading the way with expertise and solutions that are changing the industry. To find out more about the INTERCEPTTM Blood System and the benefits of pathogen reduction for your blood centre, contact our customers services by phone at +31 33 496 0600 or by email customer_services@cerus.com.
Reference:
1 "Bacterial Risk Control Strategies for Blood Collection Establishments and Transfusion Services to Enhance
the Safety and Availability of Platelets for Transfusion ǀ Guidance for Industry," U.S. Department of Health and
Human Services, Food and Drug Administration, Center for Biologics Evaluation and Research, September 2019
2 Benjamin et al, "Hemovigilance monitoring of platelet septic reactions with effective bacterial protection systems,"
Transfusion 2017 Dec;57(12):2946-2957, doi: 10.1111/trf.14284
3 Chris Hrouda, "Securing the future of the U.S, blood supply: an open letter to the health care community," Oct. 2019, retrieved from https://www.redcrossblood.org/biomedical-services/hospitalcustomers/open-letter-to-the-u-s--health-care-community.html